FINEST QUALITY COMMERCIAL ROOFING REPAIRS IN LONG ISLAND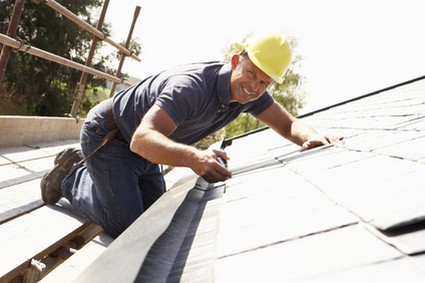 The good news about commercial roofing repairs is that they are mostly preventable by getting quality installation in the first place, and by staying current with the maintenance requirements, along the way. However, over time, any type of roof is going to need repairs so knowing who to call on for expert care is the key to success.
At H. Klein & Sons, Inc., we pride ourselves on offering our commercial clients long term solutions, as opposed to a quick but temporary fix. The work we do is intended to help enhance the performance of your roof, as well as maximize the longevity.
Local Commercial Repair Experts
Familiarizing yourself with the common types of problems that tend to occur with commercial roofs is one way to be better prepared. Although only an industry expert should diagnose the issue, you can at least be able to provide accurate data required to pinpoint the problem, and quickly resolve it.
Some examples include:
A roof leak is the most common trouble that develops with a roofing system. There are any number of possible causes, from storm damage to the natural aging process. What matters the most is quickly locating the source and addressing the repairs. If you notice any type of presence of moisture, you should always call in a professional.
When it comes to flat roofing systems, a common problem is ponding water. This is classified as standing water that surpasses the 48 hour mark, even though conditions are suitable for evaporation. Keep in mind though, damage to your roof from a pool of water can happen in less than that 48 hour benchmark.
If your roofing materials suffer shrinkage, this can cause considerable damage. It means the edges of protection are no longer in place and your roofing is directly exposed to the elements. For commercial roofing like EPDM, a way to check for shrinkage is flashings that are pulling away from the wall or obvious stress, like cracks, to the uncured membrane.
Superior Care & Results for Commercial Roofing Repairs
No one takes roofing as seriously as the H. Klein & Sons, Inc. team. It's in our blood, literally, with generation after generation of family roofing contractors making up the crew that works for you on your commercial roofing repairs, and more.
Since 1902, our company name has been around and maintaining the impeccable reputation that we have. We look forward to serving you.
Recent Articles
Top Commercial Roofing Mistakes To Avoid
Obviously, the main objective, when it comes to commercial roofing, is to try to keep it in tiptop shape. It's easy to learn about some of the things that you should be doing to keep your roofing system in good condition, however, what about the mistakes you should avoid …
3 Important Aspects Of Preventative Maintenance For Commercial Roofs
As a business owner, no matter what type of commercial property it is that you own, you want to make sure that you are getting the most from your roofing system. Your roof is responsible for helping to protect the overall integrity of your business space, and to help provide you, your employees, and your customers with a great deal of the comfort, security, and safety …
If you are looking for professional Long Island commercial roofing repairs then please call 516-746-0163 or complete our online request form.