FINEST QUALITY GARDEN ROOFING IN LONG ISLAND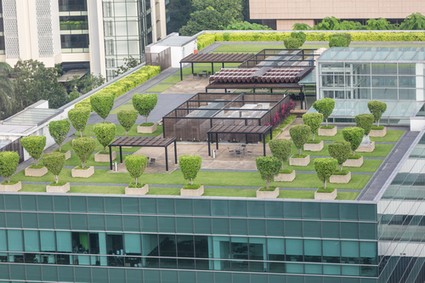 More and more commercial building owners are making the wise choice to convert their flat roofing system to a garden roofing one. We here at H. Klein & Sons, Inc. have had the honor of not just expertly installing these styles of roofs, but have been able to help educate consumers on the advantages of this roofing system. However, for long term success, it is vital that the roof design and build be executed with dexterity.
The type of commercial building and venture that you have plays a large role in how your garden roof will be used. Whatever the case may be, you and your business can greatly benefit from opting for this style of roof. Don't just take our word for it, let us educate you on the subject before you make the final decision.
Local Garden Roofing Experts
If you are still contemplating whether or not commercial garden roofing is appropriate for your commercial space, here are some points to ponder:
This is an ideal way to make use of all of your real estate. There is no reason why every square foot of your building should not be working for you, including the roof.
This can provide a relaxing space for staff or customers to enjoy. You can create as simple or elaborate a garden as you would like.
For businesses like restaurants, this can make the perfect place to grow fresh ingredients. More and more eateries are taking this route, which impresses upon their own clients that they really do offer the freshest ingredients.
Of course, this beautifies the exterior of your commercial property. Adding curb appeal is a great way to make a good first impression, as well as enhance the outside of your space.
It could also be that you are simply searching for a way to help make your roof more energy-efficient. Plants do reduce your roof's heat absorption, which leads to less energy consumption. That means that you save money and have a more Eco-friendly business.
Superior Care & Results for Garden Roofing
Simply put, you and your business could greatly benefit from the implementation of garden roofing, and H. Klein & Sons, Inc. is just the team to make that happen. We don't cut corners when it comes to the work we do and the results we provide, including this type of roof. Find out more by contacting us, and let's get started on your new project.
If you need an energy-efficient commercial roofing service then please call our Long Island garden roofing specialists at 516-746-0163 or complete our online request form.