FINEST QUALITY NEW ROOF INSTALLATION IN LONG ISLAND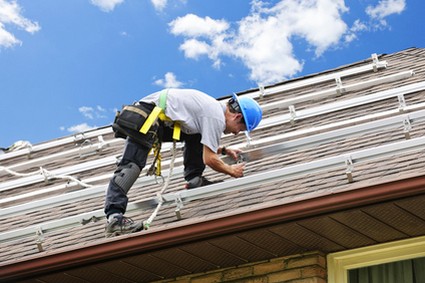 The installation of your commercial roofing is the most important job, this is what determines how well it will perform and how long it will last. At H. Klein & Sons, Inc. our work ethic and skill speak volumes for the standards in which we practice when it comes to the work we do, such as roof installations. The flawless reputation that we have built for ourselves is based on the dependability and quality we offer our entire client base, including our skilled workmanship and reasonable pricing.
Your roof is the most important protection that your commercial building has against the elements, and H. Klein & Sons, Inc. is the preferred service provider for this type of work. The installation work we do ensures optimal performance and maximum longevity.
Local New Roof Installation Experts
While you may not be handling the commercial roof installation itself, there are still some tips to keep in mind, as the building owner and consumer:
It is vital that you select the right type of material for your roofing system. Our experts can walk you through the selection process by ensuring that you comprehend the different options, as well as the pros and cons of each. This is not like choosing a residential rooftop where the main priority is visual aesthetics.
Be aware of the care and maintenance each style requires and, most importantly, be realistic about whether or not you can adhere to these guidelines. The lifespan of your roof depends entirely on your ability to keep up with maintenance requirements.
Of course, above all else, perform due diligence to investigate the roofing contractors you are considering for the job. Too many commercial clients base their decision on price, in order to stay within the company's budget. What you need is value, which is quality work for a decent price. Cheap pricing gets you cheap materials and labor, resulting in a shoddy final outcome. Look for an established company, that is reputable and known for producing quality work, that also offers a quote that is affordable.
Superior Care & Results for New Roof Installation Repairs
With well over a century of industry related experience backing our company name, H. Klein & Sons, Inc. stands for integrity and dexterity. We are committed to providing our customers with excellence, and ensuring the work we do lasts, for years to come. When it comes to a job as vital as roofing installation, quality counts, and only the best will do.
If you are looking for top quality Long Island commercial new roof installation then please call 516-746-0163 or complete our online request form.