ROOF WATERPROOFING METHODS FOR REPAIRS AND RENOVATIONS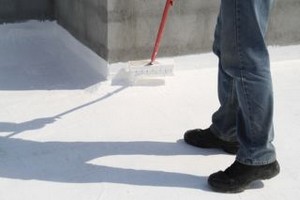 One of the most important parts of keeping your roofing in great condition is making sure that it's properly waterproofed. Any amount of water damage can be detrimental to your roofing and, in turn, to many other parts of your home, so it's absolutely essential that you have high quality roof waterproofing installed. Depending on whether you have a flat roof or a pitched roof, you will need to use different waterproofingmaterials in order to properly protect your roofing.
At H. Klein & Sons, Inc., our Long Island commercial roofing contractors can provide high quality roof repair and renovation services, and we'll always be able to ensure that your roofing has all of the waterproofing that it needs. We understand how important how important your roofing is to your home, so we don't take this task lightly. We'll help you determine the perfect roof waterproofing method, then make sure that it's properly installed.
There are many different waterproofing methods and materials available, including:
Waterproofing perforated film
Polymer membranes
Hydrophilic rubber
Surface waterproofing (acrylic, bitumen, silicone rubber, polyurethane mastic, etc.)
Sprayed waterproofing materials (poly-urea, acrylic formulations, liquid rubber, etc.)
Injected materials (polyurethane, silicate resins, cement, emulsions, etc.)
Penetrating materials
To give you a better idea of which waterproofing methods would be best for your home, here is an overview of some of the most popular waterproofing methods:
Polymeric Membranes
Polymeric membranes are extremely versatile, and they are a perfect choice for flat roofs. They can be used on new constructions, renovations, or to repair roofing. This popular synthetic material can provide long-lasting waterproofing that will keep roofing in excellent condition for years. Polymeric membranes can last for up to 25 years, plus they're fire-resistant and environmentally friendly.
Coating Waterproofing
Coating waterproofing materials include:
Bitumen-polymer mastics
Polymer mastics
Bitumen-rubber mastics
These can be divided into groups of hot mastics (those which need to preheat to 320°F) and cold mastics (those which do not require preheating).
While some cheaper forms of bitumen-mastic waterproofing may only last up to 5 years, others will last at least 20 years. They are ideal for flat roof waterproofing, and they are perfectly suited to concrete, wood, and metal.
Paint Waterproofing
Paint waterproofing can be applied by hand or can be sprayed. You should do it creating 2-4 layers for greater strength. The thickness of the waterproofing layer is only about 1-1,5 inches. Over the fresh insulation fine sand is sprinkled in order to cement the coating. The average life of paint waterproofing is about 5 years.
Roof Waterproofing Foil
These are the easiest (and most inexpensive) option for waterproofing pitched roofs, including slate, tile, and metal roofs. Most of the time, waterproofing foil is used for insulation in attics and lofts along with mineral wool and polystrene.
If you are looking for a reliable roof waterproofing contractor in Long Island then please call 516-746-0163 or complete our online request form.