METRO NYC FLAT ROOFING: GOOD ROOF FOR GOOD REASONS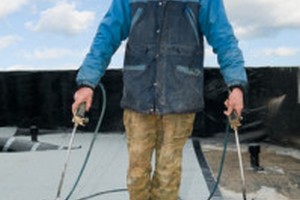 Installing Metro NYC flat roofing is easier compared to other roof types. It is also more cost effective. They are commonly seen in commercial buildings, garages and extensions. Although it is called a flat roof, a slight slope should still be built in order to drain water and debris.
Built-up flat roofing is a composed of many layers. The layers are built on top of each other to protect the structure from the sun's UV rays and also from rains. It is usually made of tar-saturated paper, liquid tar, or asphalt.  However, you can always different materials according to your needs. It is recommended that you hire a Metro NYC professional roofer when planning to repair or install a flat roof.
There are two types of flat roofing. Warm flat roof is usually seen in homes. Insulation is installed on the roof deck together with water proofing on top. This provides warmth to the roof and rids of the need for ventilation. The cold flat roof has the waterproof layer installed directly on the roof deck. Insulation is also placed just above the ceiling. Because of this ventilation is needed.
There are certain regulations that you need to follow when installing a flat roof. The contractor will be able to address these issues and can explain them further to you. As mentioned earlier, it should have a little slope. There should also be drainage in one or two edges. Cold roofs should be properly ventilated. Most importantly it should be sturdy enough to walk on.
Flat roofing can be maintained by cleaning it regularly. Inspection should also be made at least twice a year. This will prevent further damage to your commercial roof if some are seen at an early time. Always check drainages for blocks and if they are working properly. This will prevent accumulation of water and debris in your roof.
Some people who choose flat roofs convert them into green roofs. Shrubs or trees and different kinds of plants are placed in the roof. To secure the roof from damage, they are placed on top of a root resistant surface. Drainage is also provided. Converting your flat roof into a green roof can cool and insulate your Metro NYC home. The plants absorb water and it makes increases your roof's life span and durability.
There is a wide selection of flat roofing materials that an amateur can't fully understand. As always, your best bet is to hire a Metro NYC roofer that could repair and install your Metro NYC flat roofing according to your needs and specifications.
If your are looking for a flat roofing specialist in Metro NYC then please call 516-746-0163 or complete our online request form.