GREEN ROOFING SYSTEMS FOR URBAN BUILDINGS IN LONG ISLAND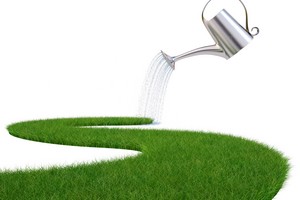 Historically, the roofing on urban buildings has had a minor impact on how people perceive them; it is the architecture – not its covering – that makes the biggest impression. The trend of green roof systems (a.k.a. natural roofs) on urban buildings is changing that phenomenon. Today, urban buildings across the U.S. are installing roofs that seem more like an interpretation of the Hanging Gardens of Babylon instead of what we normally think of as a rooftop, and urbanites are taking notice.
City dwellers have long had garden roofs-small vestiges of greenery in an otherwise commercial landscape. The term "garden" is not a fair descriptor of a green option. Though similar in appearance, garden and green roofs are technically different.
Green Roofs versus Garden Roofs:
A Long Island garden roof is what it sounds like: a garden located on a rooftop, with the vegetation usually planted in pots. Natural roofs, on the other hand, have a covering of vegetation that grows in soil. Unlike the garden option, they require landscaping and a unique approach to water drainage. Depending on the depth of their soil, they could also require more structural support than a standard roof.
For most building owners, the initial selling point of a green roof is the types of greenery it supports. Depending on their design, green roofs can support small trees, shrubbery, and other vegetation that you might find suburban backyards. With branches and grasses that toss in the wind, the roofs allow office workers to take a convenient step into nature on their lunch break-a benefit that leads some workers to choose employers who have green roofing systems over employers who do not.
Two Types of Green Roofs:
A Long Island commercial roofing company that installs naturally can install two types of green systems: intensive systems, which feature deep soil (at least 30 cm), and extensive systems, which feature shallower soil. With its ability to support trees and shrubbery:
An intensive system is usually implemented for aesthetic reasons
An extensive system is often implemented for environmental purposes.
Each system has benefits and drawbacks.
An intensive system can add significant weight to the roof of a building, which could require additional structural support. An extensive system can avoid this issue, but like an intensive system, the cost can easily exceed the price of a standard roof. Offsetting these drawbacks are the following facts:
Natural roofs can lower roof maintenance, repair costs, and save energy
They can improve waste-water management
They increase a building's value
They offer excellent environmental benefits
They offer great aesthetic value and meet a very human need for living things no standard roof can match
If you are looking for a green roofing system for your urban building in Long Island, NY then please call 516-746-0163 or complete our online request form.