COMMON COMMERCIAL ROOFING PROBLEMS REPAIRED BY LONG ISLAND CONTRACTORS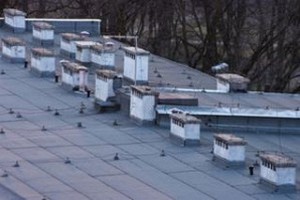 The roof of your Long Island commercial property is of vital importance. It is the first line of defense that your business or facility has against adverse weather conditions and the elements. As such, you have an obligation to keep your roofing system in the best state of repair at all times.
The best way to fulfill this responsibility is to develop a relationship with a professionally licensed commercial roofing contractor. At H. Klein & Sons, Inc., our Long Island Commercial roofing repair experts are here to help. We have the knowledge, skill, and experience necessary to provide for all of your routine maintenance and emergency repair needs.
As a property owner, it is important for you to understand and identify common commercial roofing problems. Our professionals have provided the following list to inform you in this regard. At the first sign of any of these issues, call H. Klein & Sons, Inc., as soon as possible.
Roof Leaks and Moisture
The primary purpose of your commercial roofing system is to protect the interior of your property from water incursion and moisture. If your roof is leaking, you should conduct repairs at the earliest possible moment. If the problem is allowed to linger, the damage will accelerate and the inevitable repairs will be far more costly.
Blow-offs, Tenting, and Billowing
One of the most problematic areas of a commercial roof is the flashing and seams. These areas are prone to blow-offs, tenting, and billowing. When damage occurs to these portions of your roofing system, a leak will result. Even worse, the surrounding portion of your roofing system will be highly susceptible to further damage.
Lack of Maintenance
The most common commercial roofing problem is inadequate maintenance. Different roofing materials must be cared for and maintained in different manners. At H. Klein & Sons, Inc., our Long Island roofing contractors understand the intricacies of all roof types, pitched and flat.
When you develop a relationship with our professionals, you can rest assured knowing that your commercial roofing system is being properly cared for. Through our routine roof maintenance and repair services, we can help protect your property, extend the service life of your roofing system, and mitigate damage to the surface of your roof.
Shrinkage and Cracking
Flat roofing systems have unique issues all their own. One of the first things to look for on a single-ply roofing system is shrinkage and cracking. This can be evident from the flashing being pulled up.
At H. Klein & Sons, Inc., our Long Island commercial roofing contractors specialize in repairing these common problems. With our assistance, you can rest assured knowing that your roofing system is always providing your business with the highest level of protection possible.
If you are looking for a knowledgeable and experienced roof repair service in Long Island then please call 516-746-0163 or complete our online request form.