3 SIGNS YOU NEED TO REPLACE YOUR COMMERCIAL ROOF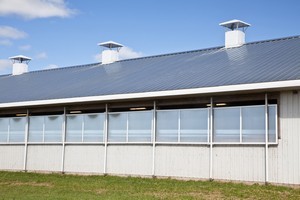 Your commercial building requires a great deal of upkeep and maintenance. However, some parts of your building may be easier to forget about throughout the seasons than others. For example, your commercial building's roof, because it does not require a great deal of maintenance or attention most of the time, may get overlooked in the long list of things you need to take care of on a weekly, monthly, or seasonal basis. However, neglecting your roof for too long can lead to damage and water intrusion, causing larger problems within your commercial property. Hiring a Long Island commercial roofing contractor to perform your roof maintenance can go a long way towards getting the longest possible lifespan out of your roof. However, even the most meticulously maintained roof will eventually start showing signs that it needs to be replaced. If your Metro NYC commercial roof is showing any signs that it is due for replacement, contact the knowledgeable, dependable experts at H. Klein & Sons, Inc. today to get started on your estimate!
Water Leaks
If you have any signs of water damage or leaking water inside of your property's attic or ceiling area, then your roof may not be adequately protecting your commercial property. Whether you see signs of water marks or detect actual moisture coming from the roof, you will want to have the roof inspected and repaired or possibly replaced right away to ensure that your building is completely protected from potential water damage or even mold and mildew growth. Established more than 100 years ago, H. Klein & Sons, Inc.has built a reputation for being the reliable, high-quality, knowledgeable roofing contractor experts that you can depend on for all your commercial roofing needs. Contact us as soon as possible if you detect any signs of water leaks coming from your commercial property.
Damaged Shingles
There are several signs of damage to be on the lookout for when inspecting your Long Island commercial roof. If you notice cracked or splitting shingles, your roof may need to be replaced. Or, if you notice that your roof looks patchy and uneven, your roof is likely wearing down from years of exposure to the outside elements. If so, you will need to replace your roof as soon as possible. Another possible sign of damage is curling shingles. Curling shingles will not effectively keep water out of your property, so if you have signs of damaged or curling shingles contact the experts at H. Klein & Sons, Inc. today!
Damaged Roof Membrane
Many modern Metro NYC commercial roofs are flat roofs, made with membrane roofing materials. While these roofs are particularly durable, they can still become damaged over the years due to wear and tear. If you look at the roof membrane and see evidence of damage, such as large bald spots and lifting, then your flat roofing system may need to be replaced. Lifting or bald areas on the membrane means that your roof is potentially permeable to rainwater, so you do not want to delay in having your roof repaired or replaced! If you have any of these or other signs of possible damage on your Metro NYC or Long Island area commercial roof, you may need a new roof replacement. Whether you are looking for flat roofing, composition shingles, or even eco-friendly garden roofing, our dedicated team at H. Klein & Sons, Inc. can help you! From the first time you contact us to an estimate until well after your roofing work is completed, our dependable, qualified experts make it our business to ensure your satisfaction. We can work with you to determine whether you are due for a roof replacement or simply some necessary repairs, and then we can help you review the best roofing options for your Long Island roofing needs. Once we have developed a plan that works for you, we will work hard to expertly repair your roof or install your new commercial roof. We strive to meet or exceed all of our customers' expectations with each and every job we take on, which is why we always use only the best techniques and highest quality materials in our roofing projects.
We want to provide you with the best craftsmanship around for a price that suits your budget, so if you need commercial roofing repairs or even a replacement roof, contact H. Klein & Sons, Inc. at 516-746-0163 or complete our online request form today!